Soundtrack
It gives me great pleasure to announce that the "Starfighter: Infinity" soundtrack is now available to buy! Phil (
www.pushthefrequency.com
) really pulled it out the bag with this one. We have worked together many times, but this is the most ambitious soundtrack hes done for me yet, which is
fitting as its also my most ambitious game.

Its a lovely blend of relaxing space ambient, sinister drones, tense drum and bass with a sprinkling of nostalgia for those who played "Starfighter: Disputed Galaxy" back in the day.

I'm really pleased with the results and I hope you enjoy them too!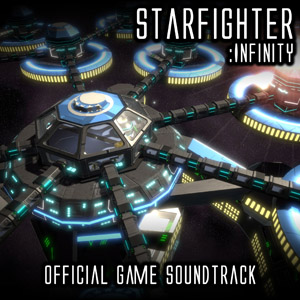 Tracklist
1. Maintenance Deck 02:39
2. Vortex 03:07
3. Nebula Dust 02:45
4. Refinery 03:07
5. Course Plotted 04:21
6. Dark Anomaly 01:48
7. Shimmering Dark 04:21
8. Stella Winds 01:17
9. Ambush 03:18
10. Further Than Before 03:49
11. Relics 02:10
12. Space Station 03:16
13. Static Interference 02:11
14. Evasive Manoeuvres 05:36
15. White Star 04:23
16. Theme 02:27
17. Theme (Meteor Burger Mix) 02:40
Copyright © Ben Olding Games Ltd 2009-2018
Ben Olding Games Ltd
Company Number: 07385840
Registered Office: Chandos House, School Lane, Buckingham, Bucks, MK18 1HD
Registered in England